GREAT weekend! We relaxed and caught up on sleep, but also had a BLAST!
Recap time: Friday -
I got a pic from Tina!! From l-r:
Emily
,
Lee
, me,
Tina
, and
Alayna
.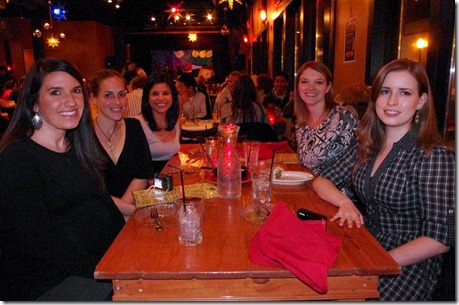 I had met Em and Lee before - great to see them again, and of course, great to meet Tina and Alyana. Normally, when I go I ALWAYS get the same thing (chicken empanada and tomato fresco) but I really mixed it up this time and tried lamb sliders, a "pizza" and this awesome bread - loved trying new things and of course catching up with Lee/Em and getting to know Tina/Alayna better in person! Great blogger meet up - I'm already looking forward to the next one! After the dinner I headed home and met Austin, Katie and Cush here - we had a drink and called it a night - GREAT Friday.
Saturday I woke up feeling horrible! My nose was all stuffed up and my TOM was AWFUL. I was in bed most of the day and even had to skip my workout - how 1950's of me. NO fun. I finally scraped myself out of bed and did a bit of laundry, and eventually watched the Auburn game and headed over toStacy and Shane's Halloween party, then out in Smyrna for a bit! I wasn't drinking - but still managed to have great time of course! Loved seeing the costumes and visiting with everyone - GOOD times.
Sunday
I woke up too early. Dang it pups! LOL I fed Remy, cleaned up a bit, watched some of my girl TV and took a 2-hour nap. Nice! Then I hit the grocery store for the week (and for Halloween Candy!), went to the gym and
walked 3 miles
, finished reading
Sharp Objects
, and got ready for trick-or-treaters. They came at 6 p.m. and we got TONS! So fun. But at 7 p.m. it was time to head down to midtown to the
the Fox for the 311 show!
GREAT SHOW.
We love that band and try to see them whenever we can - awesome venue, great parking - it was really super smooth. Only complaint which isn't really a complaint? My ears rang for 1+ hours after the show! We got great seats (hence why I can't
really
complain) but WOWZA it was LOUD. The speaker was like in our faces. We totally took one for the team and loved it though.
Q: What is the highlight of your weekend? I can't pick one! I really enjoyed our blogger meet up, the Halloween party and the show!
Q: Are you a 311 fan? I've been pretty much obsessed with them since I heard 'Down' off the 311 album at 13-years-old.
P.S. So I officially owe not one but TWO book reviews. Loved them BOTH (Karin Slaughter's Undone and Gillian Flynn's Sharp Objects). I'm about to finish The Girl with the Dragon Tattoo as well - GREAT BOOKS YOU GUYS! Can't wait to do the reviews.
P.S.S. I also made a video of our trips to Dominican Republic and NY in May - I'll post it tomorrow - so fun to make!